Fire- & Blast
rated Cladding.
Quality cladding to
complete your
project.
InterDam provides quality cladding systems in aluminium, galvanised steel or stainless steel 316L for a variety of purposes: blast relief, heatshields, windshields, and underdecks. Louvres are also part of our product portfolio.
Blast relief cladding
The base principle for blast relief cladding is windshield cladding, fixed by our special, in-house designed relief bolts.
Heatshield cladding
Heatshield cladding panels are based on a single skin type (stainless steel 316L) and supplied complete with framing, if required. The panels are bolted to back-up framing. The heatshield panels will meet the following criteria (at a minimum):
Up to a 75% reduction in radiation from the external face to the
internal face
Visibility through the panels
Natural ventilation through the panels
Windshield cladding
Standard windshield cladding is single skin corrugated sheeting with standard profile height of 35 mm. This sheeting can easily be fixed to supporting rails with stainless steel, self-tapping bolts. Special gaskets can be used to separate dissimilar materials (where required) to avoid galvanic corrosion. The maximum unsupported span of cladding is approximately 1800 mm.
Windshield cladding is also available with perforated designs for certain ventilation situations. If openings in the cladding are required, InterDam can also provide cladding with windshield doors (both sliding and hinged types).
Louvres
Louvres are a prefabricated system (made from aluminium, stainless steel or pre-coated galvanised steel) consisting of louvre blades with brackets (or complete with suitable framing). Louvre design is optimised with regards to pressure drop and air flow. The blades will be a profiled type and fixed by either welding or bolting to the panel framing.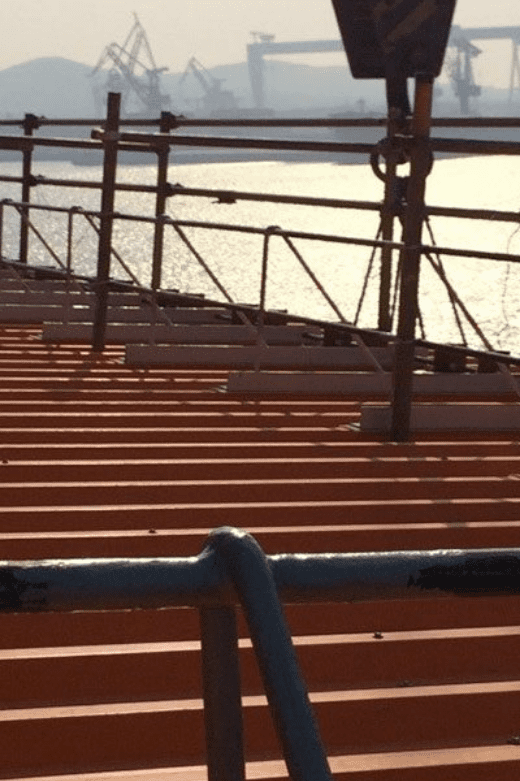 Heerema Marine Contractors, Thialf
TAQA, Platform P18 and P15C
Petrogas, Haven/Helder/Helm
Ineos, Kinneil FOB Office
Total, Tyra Redevelopment Project
TCO, Tengizchevroil Future Growth Project